I was just going through my Photobucket album when I was doing the last blog and I found these pics. I have deemed them my favorites from our trip home in Feb.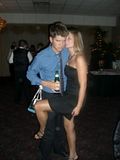 I dont think I really need to comment much on this picture. It works on many different levels, because it really captures the essence of who we are as a couple, but its up to the viewer to decide how.


Ohhh Addison what a cutie you are. Its too bad you arent coming to hawaii to hang out. I really think we made a connection while I was home (dont tell Ricker), but I think Im def the favorite uncle now. I thought the putting green would win Kade over, but apparently he likes my new kitties more than me.